The legs were restless last night, so needless to say I did not have a good night of sleep. Whenever I do a tough workout I usually have restless legs that same night. It must have have been a very good workout if I am having restless legs two nights later.
PowerTap data from my hour or so that I spent riding with Warren and Marc on Thursday. Numbers don't lie - I had to work!
The past couple days and nights it has been warm and rainy. Kind of a double edged sword: the snow in the Gats should really have taken a beating and hopefully will clear the parkway off making for some good road riding; BUT all the rain has most likely totally saturated the course for tomorrow. It is going to be a muddy, silty, gear grinding, bike destroying course tomorrow. Apparently it is f
airly clear today near Uxbridge
and tomorrow's forecast looks fine
(though a bit nippy in the AM)
for the race - at least it won't be raining.
I had planned on racing on my new
Fisticuff
, but unfortunately it won't be happening - a mix up with shipping has caused delay in receiving it. Too bad, because a cx bike should be the weapon of choice for the Icebreaker. With any luck I'll have it ready for
next week's race
. So, looks like I will be riding single speed - which ain't a bad thing either. I'm actually looking forward to getting on the mtn bike again since the last time I threw my leg over the
Jabber
was November. I'll be in 'spin' mode while on the many concession roads, and in 'mash' mode while riding through the mud and snow on everything else. Should be fantabulous training!
Speaking of training, I am looking forward to next week - which is a week of recovery
(a.k.a. laying on the couch, eating chips and watching tv)
. This past three week block the intensity has kicked up and the body has felt it - especially last days ride! It will be interesting to see how much 'umpffff' I've got in the legs for tomorrow.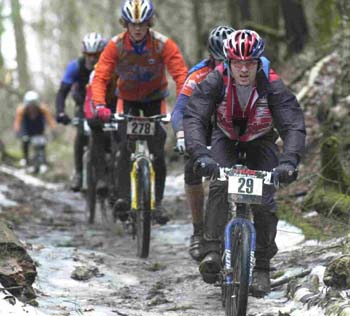 Snowy, icy, muddy course - photo from 2004.
Hopefully tomorrow's race, the
Uxbridge Icebreaker
, will have a better result for me this year than when I did it in 2007. Not that I did poorly in the race itself
(finished in the top ten & raced single speed)
, it was
what happened after the race that totally sucked.